Hiring a kitchen designer ensures an expert touch and maximizes the functionality of your space. A designer can help you achieve a cohesive and aesthetically pleasing design while adhering to your budget and lifestyle needs.
The kitchen is the heart of the home and a well-designed kitchen can make a significant impact on your daily life. With a plethora of design options available, it can be overwhelming to choose the right design for your space.
This is where a kitchen designer comes in. A designer can work with you to understand your needs, lifestyle, and budget, and create a design that maximizes functionality and aesthetics. They have knowledge of the latest trends and technology, and can help you select the best materials, appliances, and finishes. In addition, a designer can manage the entire project, ensuring that it is completed on time and within your budget. Ultimately, hiring a kitchen designer can save you time, money, and stress, while creating a beautiful and functional space that you'll love.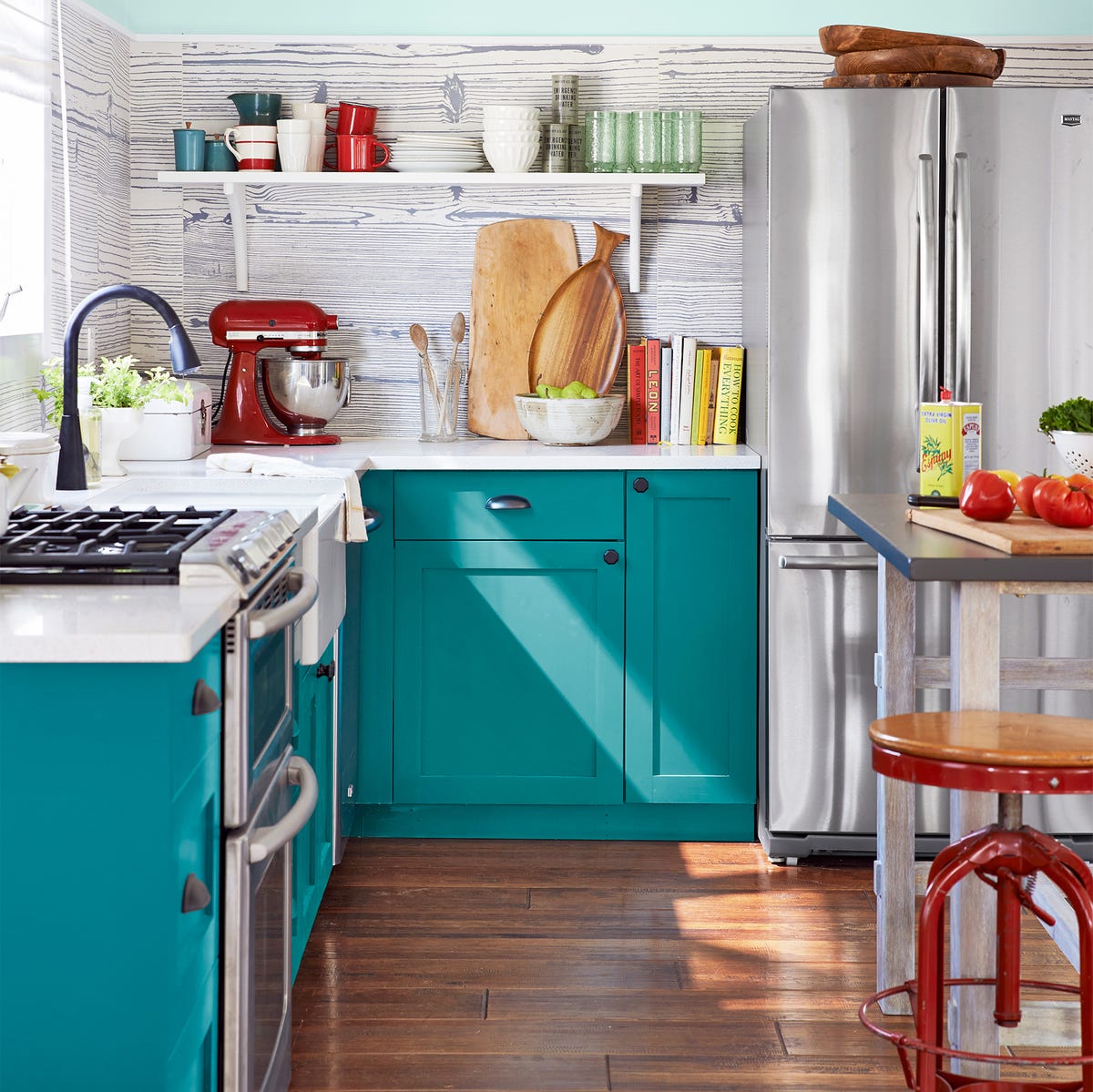 Credit: www.goodhousekeeping.com
Benefits Of Hiring A Professional Kitchen Designer
Experience And Expertise In Designing
Hiring a professional kitchen designer with years of experience in designing can make a significant difference in your kitchen renovation. They can apply their expertise to redesign your cooking space with their keen eye for detail, knowledge of trends, and skill at balancing form and function.
Moreover, a trained designer knows the latest design principles and can help you create a modern or contemporary style that matches your taste and lifestyle. They can also incorporate existing features into the new design to ensure your kitchen looks cohesive and well put together.
Customized Design Plan According To Your Needs And Budget
A kitchen designer will work with you to create a customized space that suits your needs and budget. They can help you choose the right materials, finishes, and color schemes that match your style and preferences, while keeping the costs in check.
Additionally, they can guide you through the process and help you prioritize what you want to achieve for your kitchen remodel, ensuring that your goals align with your budget. This will prevent unnecessary expenses and focus on what's essential for your kitchen renovation.
Access To Professional Resources And Materials
Kitchen designers have access to a wide range of resources, including high-quality materials, finishes, appliances, and fixtures that are not available to traditional customers. They know which brands and suppliers offer the best products, quality, and prices.
By hiring an experienced kitchen designer, you'll get access to their extensive network of resources that can help you get more for your money. They know which resources are the most cost-effective, so you don't have to spend a lot of time researching and comparing different products and suppliers.
Minimize Errors And Maximizes Efficiency
Kitchen remodeling projects can be complicated, and mistakes can be costly. By hiring a professional kitchen designer, you can minimize errors in your project and maximize efficiency. A designer can help you avoid common design and installation mistakes, reducing the need for costly rework.
Moreover, a designer will work with you and your contractor to ensure that the project timeline is as efficient as possible. Hiring a professional kitchen designer can help you complete your kitchen remodel on schedule while ensuring that the end result meets or even exceeds your expectations.
How To Find The Right Kitchen Designer For You
Why hire a kitchen designer? Transform your space with expert guidance.
Creating a dream kitchen is an exciting and challenging project. It is the heart of your home, where you, your family, and friends gather to share meals and create memories. However, designing a kitchen that truly reflects your personality and lifestyle can be a daunting task.
That's where a professional kitchen designer comes into play. With their expertise, you can transform your space into a functional, elegant, and comfortable area to enjoy for years to come.
Research Online And Offline
Before hiring a kitchen designer, do your research online and offline. Google is an excellent place to start, look for local designers and check their websites and social media pages. Take notes about their services, reviews, and portfolio. Visit local showrooms and kitchen design centers.
Talk to sales representatives and designers to get an idea of their experience and qualifications.
Look For Reviews And Recommendations
Reviews and recommendations are an essential part of your research. Read what previous clients have to say about their experiences with the designer. Search on websites such as houzz and yelp for unbiased reviews. Ask friends, family, and neighbors if they have worked with any designers before and what their experience was like.
Asking for recommendations from people you trust is a great way to narrow down your choices.
Check The Designer'S Portfolio And Previous Works
Reviewing a designer's portfolio is an efficient way to determine if they are the right fit for your project. It is essential to check their previous works and projects. Take a closer look at their style and design preferences to make sure it aligns with your vision.
A professional designer should have a clear portfolio that showcases their creativity, problem-solving, and attention to detail.
Communication And Compatibility
Communication is key when it comes to hiring a kitchen designer. You want to work with someone who can understand your ideas and bring them to life. Therefore, it's crucial to find a designer who is excellent at communication, listens to your needs, and works collaboratively with you.
Personality compatibility is also vital when hiring a designer. You must feel comfortable and confident working with them, as you will be spending a lot of time communicating and sharing ideas.
By following these guidelines, you can find the right kitchen designer who can create a beautiful and functional space that meets your needs and reflects your style. From researching online and offline to checking their portfolio and previous works, you can rest assured that you have chosen the perfect designer for your dream kitchen project.
The Design Process: What To Expect When Working With A Kitchen Designer
Why hire a kitchen designer? Transform your space with expert guidance.
As the saying goes, the kitchen is the heart of a home. Therefore, it is essential to have a functional and visually pleasing kitchen design. Despite having great ideas, not every homeowner has the expertise to execute their kitchen design plan seamlessly.
That's where hiring a kitchen designer comes in handy. In this post, we will look at the design process and what to expect when working with a kitchen designer.
Initial Consultation
The first step in the process is to set up an initial consultation with a kitchen designer of your choice. During this stage, you will have a one-on-one conversation where the designer gets to know your specific requirements, personal preferences, style, and budget.
Here are some of the key points to expect during the consultation:
A thorough discussion regarding your kitchen needs and objectives.
Establishing an overall design concept that works for you.
A detailed review of your existing kitchen layout to identify areas of focus.
A preliminary budget estimate for the process.
Design Concept Presentation And Review
Once the designer has a clear understanding of your needs, they will develop a design concept that accommodates your vision. This concept should address functionality, aesthetics, and budget. The designer will present a detailed design featuring scaled floor plans, elevations, 3d images, and a detailed budget breakdown.
Here are some of the key points to expect during the design concept presentation and review stage:
A presentation of a detailed kitchen design plan.
Visuals, including scaled floor plans, elevations, and 3d images, to gain a better perspective.
A thorough discussion of the design concept, including suggestions and recommendations.
Revisions and modifications to the design until it fully meets your requirements.
Approval of the final design.
Material Selection And Purchasing
Once the design is finalized, it's time to select materials. The designer will work with their preferred suppliers or your preferred vendors to source materials that match the approved design. Here are some of the key points to expect during the material selection and purchasing phase:
A detailed review of countertops, appliances, cabinets, flooring, hardware, and lighting options.
A discussion of the pros and cons of each product and how the products fit into the design concept.
A review of the material specification sheets and product samples to ensure the plans match precisely.
The procurement of the materials from the suppliers and vendors.
Construction And Installation Coordination
After selecting the materials and finalizing the design plans, it's time to install and construct the new kitchen design. The installation process includes working with a team of experienced and licensed professionals, whether contractors, carpenters, plumbers, electricians, and more. The designer will act as project manager, overseeing the construction process, ensuring that the project completes on time and within budget.
Here are some of the key points to expect during the construction and installation coordination phase:
Coordination of the construction and installation process.
Overseeing the work completed by the team of professionals and making sure it meets the design plans' standards.
Troubleshoot and problem solve any unexpected issues that may arise during the construction process.
Staying in close contact with the homeowner to keep them informed of progress and any unexpected changes.
Conducting a final walkthrough of the newly designed kitchen project.
Hiring a kitchen designer is an excellent choice for anyone considering renovating their kitchen. They have the expertise and knowledge to help you realize your kitchen vision and create a space that is both functional and aesthetically pleasing. By understanding the design process for working with a kitchen designer, it's easier to know what to expect and ensure a smooth and hassle-free renovation process.
Common Mistakes To Avoid When Designing Your Own Kitchen
Kitchen renovation can bring efficiency and vibrancy to your home. However, a poorly designed kitchen can result in chaos and frustration. That's why hiring a kitchen designer is essential. In this blog, we highlight common mistakes to avoid when designing your own kitchen.
Read on to learn more.
Lack Of Planning And Focus
One of the biggest mistakes people make when designing their kitchen is failing to plan adequately and losing focus. Thinking about all of the measurements and essential aspects, including sink placement, workflow, and storage options, is essential. A professional kitchen designer can help guide you through this process and alleviate any concerns you may have.
Lack of planning can result in inefficiency in the kitchen space.
A focus on kitchen design is important to achieve both aesthetics and functionality.
Ignoring Safety And Accessibility Factors
Safety and accessibility are often overlooked when designing a kitchen. It's crucial to think about the worst-case scenarios, such as fires, spills, tripping, and falling. Proper safety measures such as fire extinguishers and spills resistant materials should be installed. The accessibility of the kitchen space also aids in seamless movement and efficiency when cooking.
Safety measures are essential to prevent kitchen hazards.
Accessibility plays an important role in an efficient kitchen design.
Choosing Aesthetics Over Functionality
Sometimes kitchen designs look fantastic, but they don't serve the intended purpose. A kitchen should be functional first, and then beautiful. If you put aesthetics first, you may end up having a cluttered kitchen without enough storage and workspace.
Aesthetic appeal should not come before functionality in kitchen design.
A functional kitchen can also look beautiful with smart design elements.
Overspending On Non-Essential Elements
Planning for a kitchen remodel can be very exciting, and it's easy to overspend on non-essential elements such as fancy light fixtures or luxuries like a wine fridge. It is important to remember to stick to your budget and to prioritize the essential requirements for a functional kitchen.
Stick to your budget and avoid overspending on non-essential elements.
Prioritize the critical aspects of your kitchen renovation project to avoid unnecessary expenditure.
Kitchen design is a complicated task that is best left to the experts. By avoiding these common mistakes, you can transform your kitchen into a functional, aesthetically pleasing space that will bring joy for years to come.
Cost Of Hiring A Kitchen Designer And How To Budget For It
Transforming your kitchen space is a massive decision that requires careful consideration and proper planning. Hiring a kitchen designer helps you to achieve your desired results and can ensure that the process is stress-free. As you begin budgeting for your kitchen renovation project, you may wonder about the cost of hiring a kitchen designer.
We look at the cost of hiring a kitchen designer and how to budget for it.
Hourly Rates Vs Fixed Fees
Kitchen designers offer services at a flat fee, hourly rate, or as a percentage of the project's total cost. The cost of hiring one is likely to depend on the extent of their involvement in your project. If you only need assistance with color choice, floor plans, and cabinet design, then an hourly rate may be ideal.
On the other hand, if you need a complete makeover, a fixed fee is the best option. Keep in mind that the designer's experience, reputation, and location may impact the cost of services offered.
Some examples of the costs you can expect include:
A consultation fee ranges from $100 to $200 per hour or a fixed fee of $500 to $1,000.
An all-inclusive design fee ranges from $5,000 to $20,000 or 10 percent of the project's total cost.
Hourly rates fall between $65 to $250 per hour.
Additional Costs And Hidden Fees To Consider
When budgeting for a kitchen designer, take into account additional expenses that may be necessary. These expenses include but are not limited to:
A detailed plan for your kitchen remodel
A full site survey of your kitchen space
Changes or revisions in your kitchen design plans
Any travel or accommodation expenses for the kitchen designer
Necessary permits and fees
Keep an open line of communication with your kitchen designer, and ask them about any additional costs that may arise. It is better to have a comprehensive idea of what you are getting into before beginning the kitchen design process.
Making A Realistic Budget Plan
One of the most critical steps in budgeting for kitchen design is to create a realistic budget plan. Determine your desired outcome for the project and what aspects of the kitchen design matter most to you. Break down your budget by the overall project, materials cost, labor costs, and designer fees.
Consider factors such as:
The size of the renovation and the amount of labor required.
The type of materials you want to use, including sinks, cabinets, countertops, and flooring.
The amount of customization and detail you desire from your designer.
Making your budget depends on your income and financial situation. As such, it is vital to be realistic with your budget and seek professional guidance from the kitchen designer. Remember, hiring a top-notch kitchen designer may cost more and may require you to adjust your budget, but high-quality design and execution will be worth the cost in the end.
Hiring a professional kitchen designer is an excellent investment for any homeowner looking to transform their kitchen space. Before proceeding, ensure that you have a clear understanding of the cost of hiring a kitchen designer and cover all required expenses.
Partner with a reputable kitchen design professional to help bring your dream kitchen to life.
Conclusion: Is Hiring A Kitchen Designer Worth It?
Hiring a kitchen designer can be daunting, but it is worth the investment to revamp the heart of your home. After all, your kitchen is more than just a place to cook meals; it is a gathering spot for family and friends.
Here are a few key takeaways to consider as you decide whether hiring a kitchen designer is the right choice for you.
Considering The Pros And Cons Of Hiring A Kitchen Designer
Before you hire a kitchen designer, it is essential to weigh the pros and cons of doing so. Here are some factors to consider:
Pros
Reduced stress and hassle: A kitchen designer will handle all the details involved in designing a kitchen, from creating a functional layout to coordinating with contractors and vendors, so you won't have to worry about a thing.
Expert guidance: With their experience and expertise, a kitchen designer can offer you valuable insights and suggestions that you may not have thought of.
Higher quality and more innovative designs: A kitchen designer can help you create a unique and personalized space that is both beautiful and highly functional.
Cons
Cost: Hiring a kitchen designer will cost you more than tackling the project on your own. However, while the initial investment may seem high, it can save you time and money in the long run.
Limited input: Some people may feel that hiring a kitchen designer takes away from their ability to personalize their space. However, a skilled designer will work with you to incorporate your ideas, needs, and preferences into their plan.
Factors To Consider Before Making The Final Decision
If you decide to move forward with hiring a kitchen designer, here are some factors to keep in mind:
Budget: Set a realistic budget and ensure that the designer you hire can work with it.
Style preferences: Look for a designer who has experience working with your preferred style and whose design aesthetic aligns with yours.
Timeline: Be clear on the timeline for the project and ensure that the designer can work within your desired timeframe.
Ultimately, The Choice Comes Down To Your Needs And Priorities
Hiring a kitchen designer is a personal choice that will ultimately depend on your needs and priorities. While there may be some drawbacks, the benefits of hiring a designer are significant. A designer can help you make the most of your space, create a beautiful and functional kitchen, and take the stress out of the renovation process.
By weighing the pros and cons and considering the factors outlined above, you can make an informed decision that will transform your space and your daily life.
Frequently Asked Questions On Why Hire A Kitchen Designer?
Why Should I Hire A Kitchen Designer?
Hiring a kitchen designer will give you access to professional expertise and guidance to create your dream kitchen. They can save you time and money while ensuring that your kitchen is functional and visually pleasing.
How Much Does It Cost To Hire A Kitchen Designer?
The cost of hiring a kitchen designer depends on several factors such as the scope of the project, the designer's experience, and location. However, hiring a designer is considered a wise investment and can add significant value to your home.
What Are The Benefits Of Hiring A Kitchen Designer?
Hiring a kitchen designer can save you from the stress associated with diy projects. A designer will communicate your ideas, requirements, and preferences and come up with a customized solution that meets your needs and preferences. They will also use their experience and expertise to guide you in creating a cohesive design.
How Can A Kitchen Designer Help Me With Storage Solutions?
Kitchen designers are experts in design, including storage solutions. They can create a functional kitchen layout that maximizes your available space while also ensuring that you have enough storage for your needs. They can also advise on the latest storage solutions and trends.
Can A Kitchen Designer Help Me Choose Appliances And Materials?
Yes! Kitchen designers have extensive knowledge of the latest kitchen materials and appliances available in the market. They can offer advice on the best types of materials and appliances to use for your specific requirements and budget. They can also advise on important things like energy efficiency and long-term durability.
Conclusion
With so many options available for home renovation, it can be overwhelming to try and take on everything by yourself. This is especially true for kitchen design, which requires a skilled and experienced professional to create the perfect space for your needs.
Hiring a kitchen designer can save you time, money, and stress by providing solutions you may not have considered on your own. A designer can help guide you through the process, make sure everything is tailored to your specific needs, and ensure the final result is exactly what you want.
They can also offer valuable insights into the latest design trends, color schemes, and materials that can enhance the look and feel of your kitchen. In the end, a kitchen designer is a worthwhile investment that can transform your dream kitchen into a reality.